Large Pores
Large pores can happen to anyone. They're not necessarily bad, but large pores on your face or large pores on your nose can be distressing. Everyone has visible pores – don't let those Instagram filters and editing tools your friends and today's influencers use fool you.
But if you're bothered by the size of the pores on your face, it helps to understand what causes large pores and what you can do about them.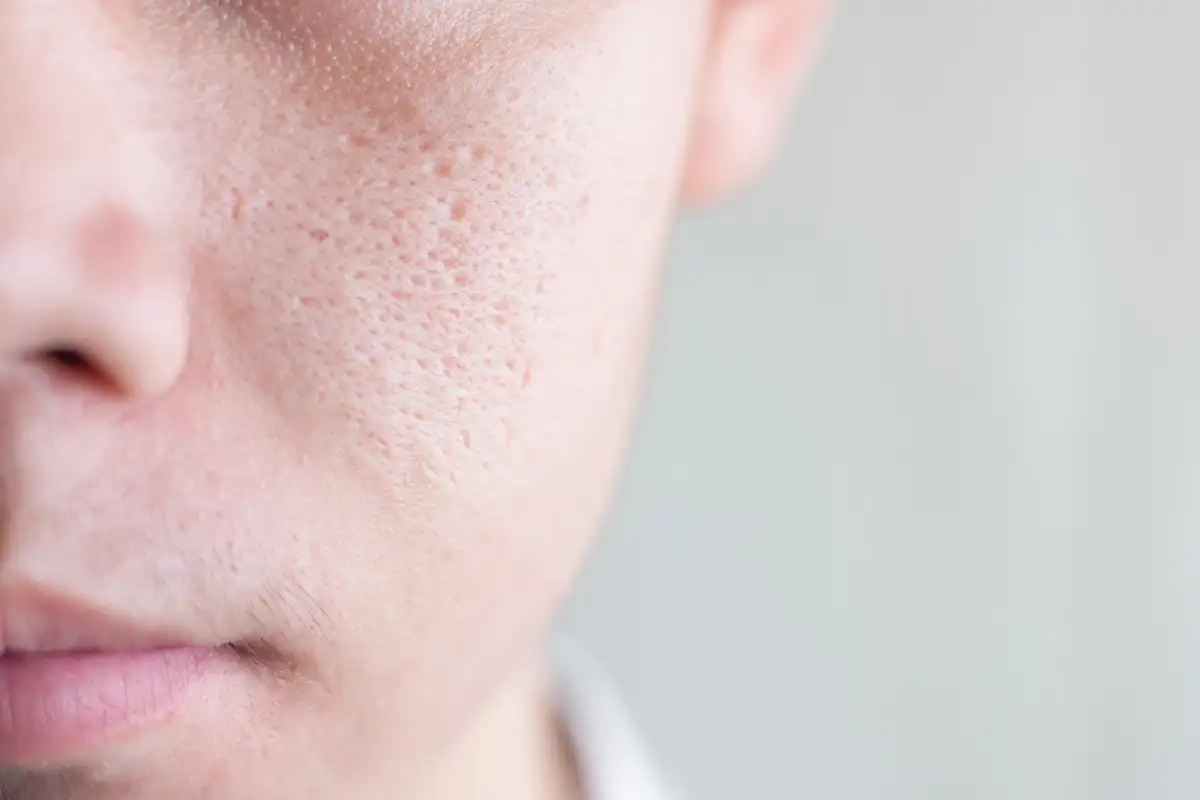 What Causes Large Pores?
There are several common causes for large pores, including:
Heredity
Genetics is the biggest reason you might have large pores. If an older family member has them, you may have inherited the skin type.
Oily Skin
If you have oily skin, you probably also have large pores. This is because when your skin produces excess oil/sebum, it can mix with dead skin and bacteria and clog your pores, enlarging them.
Age
If you notice your facial pores getting larger as you age, it's not your imagination. As you age, your skin loses elasticity, making your pores appear larger.
Hormones
Men may naturally have larger facial pores than women, but hormones can make a woman's pores look larger – they may look larger before and during your period, or when you're pregnant.
Sun Damage
Repeated sun exposure damages your skin's collagen, elastin, and water levels, which can cause the edges of your pores to stretch.
Comedogenic Products
Using comedogenic (pore-clogging) makeup can also increase pore size. This is why it's so important to use non-comedogenic makeup and skincare products. Clogged pores can also trigger acne.
Large Pores Treatment with Aesthetics at Cima Health
If large pores are bothering you, we have several treatments that can help shrink pores and promote optimal skin health. Some of your options include:
The IPL/Photofacial is a non-invasive treatment that uses intense pulsed light to target areas of hyperpigmentation. It is a proven and effective treatment to reduce the appearance of sun damage, age spots, rosacea, melasma, and more.
Microneedling uses tiny needles to penetrate your skin, promoting collagen production. That's why it's also known as collagen induction therapy. It's a proven and long-lasting treatment to reduce the appearance of large pores.
Chemical peels for enlarged pores are very effective. A chemical peel is exfoliation taken to a new level. The peel essentially causes the top layer of skin, most of which is dead skin cells, to peel off, revealing younger-looking, healthier skin. We would probably recommend a glycolic acid peel for large pores.
DMK enzyme therapy rejuvenates your skin. This treatment can be customized to address large pores and clogged pores, promoting healthy skin.
Our custom bespoke facial is tailored to your skin concerns. This facial using proven products can help shrink your pores and improve oily skin, as well as make you feel pampered.
The hydrafacial uses patented technology to cleanse, extract, and hydrate your skin. By extracting all the gunk from your pores, it allows them to shrink back to their normal size. You may need more than one treatment to achieve the optimal effect.
Celluma LED light therapy. This acne light therapy treatment can shrink large pores as well as kill the bacteria that cause acne, decrease inflammation, and improve skin tone.
Laser Genesis is a non-invasive and proven treatment for dramatically minimizing large pores. The laser heats the layer under your skin, promoting collagen production which plumps and tightens your skin, reducing large pores.
Which treatments you receive will be based on your skin condition and your goals. In addition to the treatments you receive in our skincare clinic, your aesthetician may recommend a superior line of medical-grade skincare products curated for your skin concerns.