Unwanted Hair
Unwanted hair. We all have it. Whether you shave and tweeze daily or weekly, you put a lot of time and effort into removing unwanted hair from your face, legs, armpits, and other areas of your body. Men have unwanted hair just like women do.
Whether you're a man who wants to ditch the hairy back and find professional back hair removal or a woman who spends most of her days in a bikini, or someone who is just tired of all the shaving, tweezing, razor burn, and skin irritation, we have long-lasting solutions for dealing with unwanted hair.
Our Palm Beach Gardens aestheticians are trained and experienced in multiple hair removal techniques, to give you the smooth, hair-free skin you crave.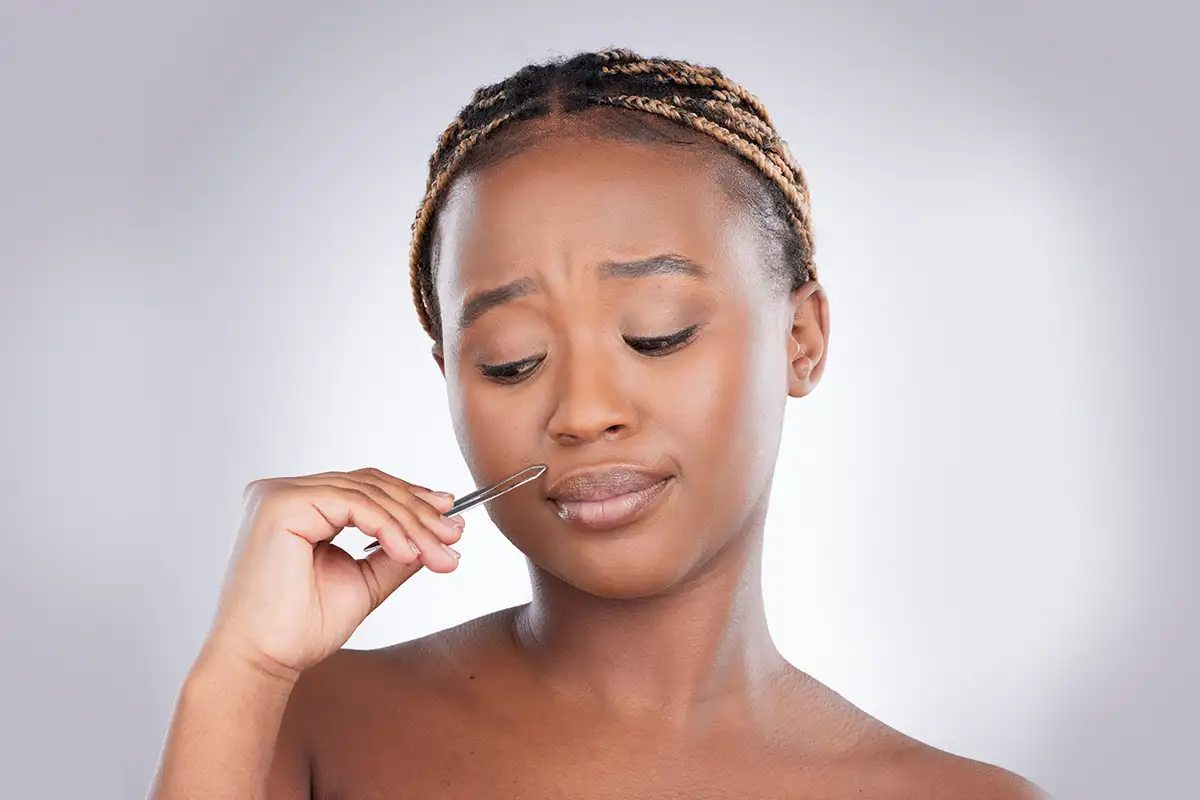 Unwanted Hair Treatments with Aesthetics at Cima Health
One free consultation with the aestheticians at Aesthetics at Cima Health will help determine a personalized treatment plan designed to meet or exceed your goals. Unwanted hair can be embarrassing or just a pain to keep removing yourself through shaving or tweezing at home.
We offer several hair removal services that provide professional, long-lasting results, including:
Laser hair removal is the gold standard when you want long-lasting removal of unwanted hair with minimal discomfort. The laser can easily target hair follicles in an area of thick hair growth or over a large area such as the back, legs, arms, stomach, chest, armpits, pubic area, nose, beard area, upper lip, and more. We can use the laser just about anywhere on your body.
You will need multiple initial treatments – 6 is the average, and then you'll need infrequent maintenance appointments after that. What hair does grow back will be thinner and finer, requiring just a touch up treatment.
We also offer facial waxing. Options include:
Brow waxing
Nose hair waxing
Upper lip wax
Chin wax
Sideburn waxing
Ear hair waxing
Our aestheticians will customize your waxing treatment for the area being treated as well as any skin sensitivities you might have. The results are instant and affordable. You will need waxing appointments every 3-4 weeks to maintain the look and feel of hair-free skin.
Electrolysis is a permanent solution for unwanted hair. Because each hair follicle is treated individually, it is a time-consuming method of hair removal. It's best suited for smaller areas such as the eyebrows, upper lip, face, abdomen, and breasts. It's a good solution for removing hair the laser can't – such as white, grey, light blonde, or red hairs. Full removal of all the unwanted hair in the area may require several treatments spaced out over many months, depending on the amount of hair you want to be removed.
If you have unwanted hair, we can help. Which hair removal treatment or combination of treatments is right for you will depend on how much unwanted hair you have, where it's located, and any skin sensitivities you might have. Your aesthetician can help you decide.