Spider Veins
If you've noticed red or blue blood vessels close to the surface of your skin, you may have what are known as spider veins. They got the name because of their tree branch or spider web-like appearance. Spider veins can occur on your legs, nose, face, and chest. When they appear on your nose or face, they're more commonly referred to as broken capillaries.
While harmless, spider veins can cause embarrassment, make you look older than you are, and keep you from wearing some of your favorite clothes. But it doesn't have to be that way. Learn more about spider veins on legs, what causes them, and how to treat them.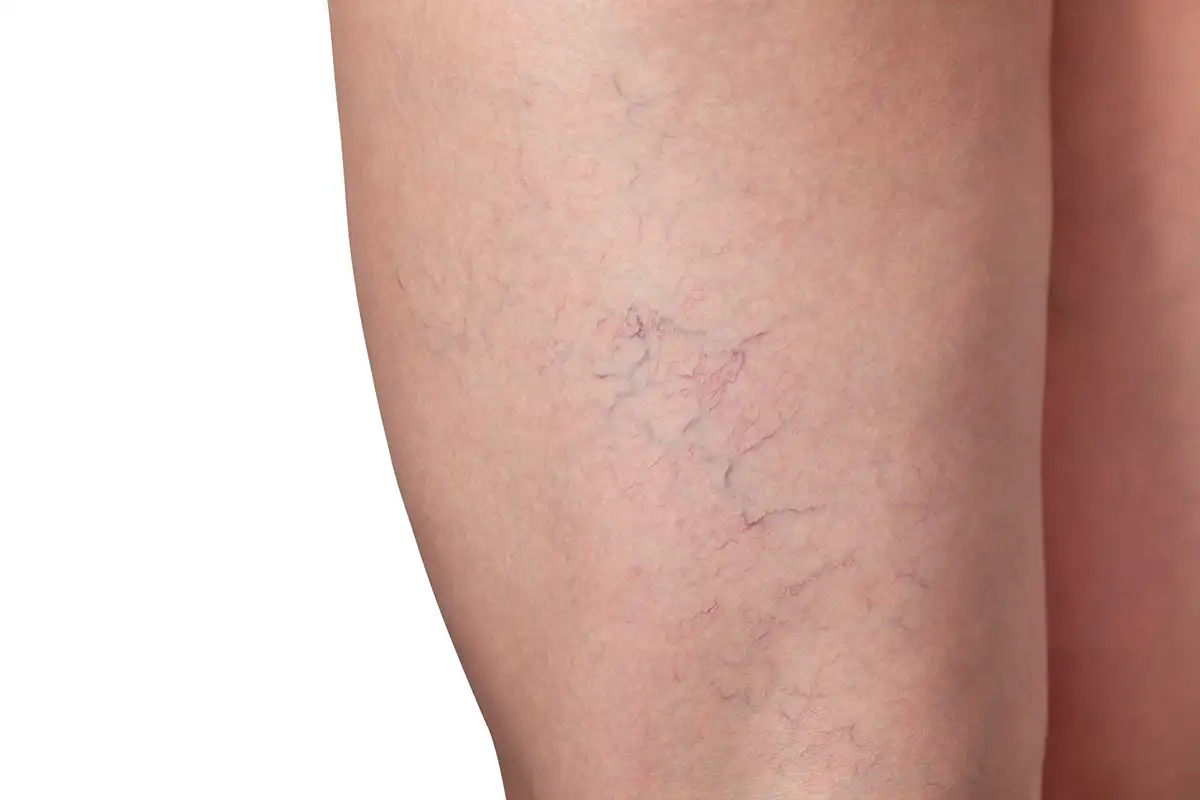 What Are Spider Veins?
Your veins pump blood back to your heart. Spider veins in your legs occur when faulty valves in the veins allow blood to flow backward and pool in the veins below the surface rather than being pumped back to the heart. They are more noticeable in people with fair skin. Spider veins are also smaller than varicose veins, which can be painful. Typically, spider veins are not painful, but are most likely unwanted.
What Causes Spider Veins?
Faulty valves in the veins are the main culprit. But there are several factors that increase your risk of developing spider veins, including:
Genetics. You are more likely to develop spider veins if someone in your family has them.
Aging. You are more likely to develop spider veins the older you get.
Extended Sitting or Standing. If you sit or stand for more than 4 hours at a time at work or at home, your risk increases.
Unhealthy Weight. If you're overweight or obese, your heart and circulatory system are under increased pressure, which can lead to developing spider veins.
You're pregnant. The increased weight and hormonal changes that comes with pregnancy can lead to spider veins.
Hormone Treatment. Taking hormonal birth control or receiving menopausal replacement therapy can increase your risk.
They can form at any time and are more visible in light-skinned people, and women are more likely to develop spider veins than men.
Spider Veins FAQs
No. They might fade slightly, but they will not go away on their own. You may develop more spider veins without treatment and a change in lifestyle.
There's no guarantee you can prevent spider veins entirely, but there are several things you can do to reduce your risk of developing them, including:
Lose weight if you are overweight.
Stay active, including standing up to take frequent breaks if you sit at work.
Take breaks to sit if you stand all day at work.
Wear compression stockings.
Spider Vein Treatment with Aesthetics at Cima Health
We offer laser spider vein removal to treat spider veins that are anywhere on your body other than on your face. The lasers we use at Aesthetics at Cima Health can quickly and effectively remove your spider veins with minimal discomfort. A consultation will help determine if this is the right procedure for you.
Most people need 4-6 treatments spaced 4-6 weeks apart to achieve optimal results. This non-invasive treatment uses light energy that heats the spider veins, causing the vessels to collapse. The vein is then absorbed into your body. Your circulatory system redirects the blood back to your heart. The same spider veins will not reappear, but you may develop new spider veins as time goes on.