Broken Capillaries
Have you noticed visible blood vessels on your nose, cheeks, or chest? You're not alone. They're commonly called broken capillaries. They can be embarrassing and hard to cover up with makeup. If you have broken capillaries on your face, you need to know that they most likely won't go away on their own, and could get worse.
Learn more about these pesky blood vessels, and how they can be treated to provide you with younger-looking skin and a more even skin tone.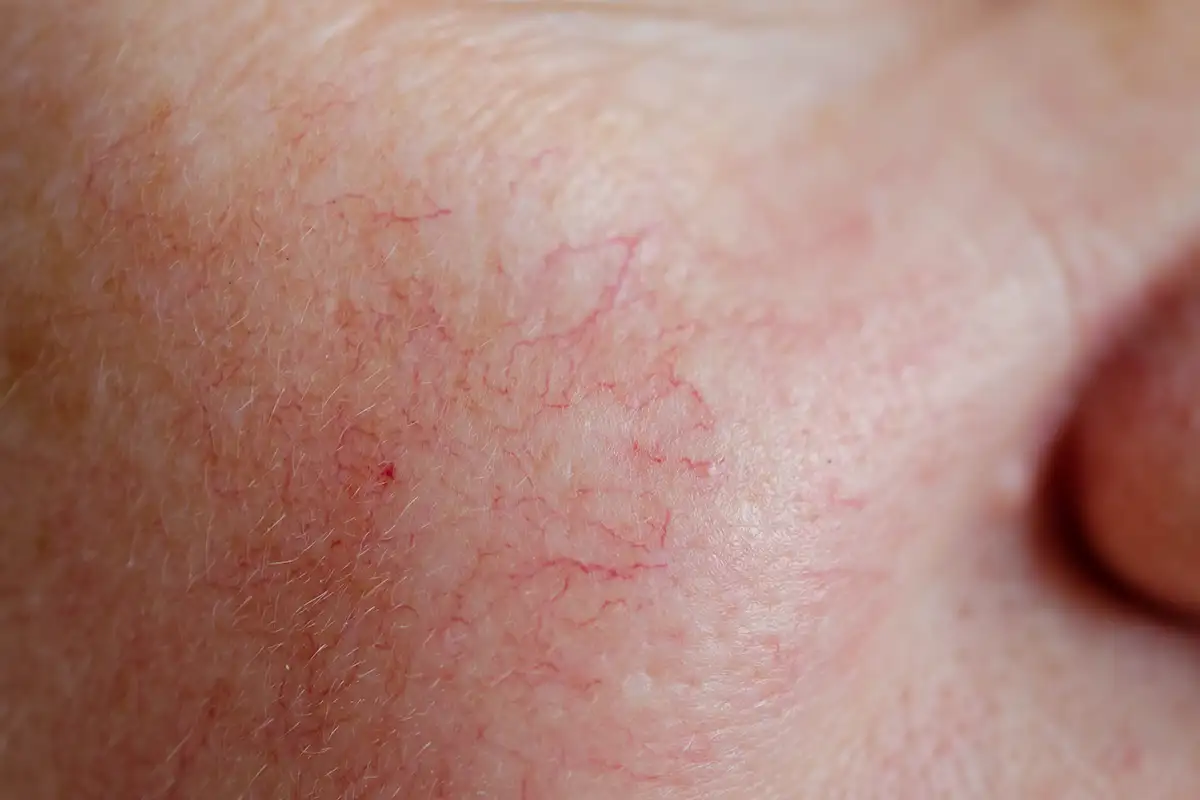 What Are Broken Capillaries?
Capillaries are the smallest blood vessels in your circulatory system. Broken capillaries aren't actually broken. They're enlarged blood vessels that look sort of like a spider web just below the surface of your skin. The medical term for them is telangiectasias. When they're found on your legs, broken capillaries are more commonly known as spider veins.
What Causes Broken Capillaries?
We're focusing here on broken capillaries on your nose, face, or chest. There are many causes, including:
Genetics. If you have a family member with broken capillaries, you're more prone to developing them.
Long-term Exposure to the Sun. Sun damage can enlarge your blood vessels and bring them closer to the surface.
Rosacea. Broken capillaries are a common symptom of rosacea, a common skin condition.
Pregnancy. The hormonal changes associated with pregnancy can sometimes cause broken capillaries.
Hot Weather. Heat can cause blood vessels to enlarge and become more visible.
Alcohol Consumption. Binge drinking or heavy drinking can eventually cause broken capillaries, usually around the nose.
Whatever the cause of your broken capillaries, if they bother you, it's important to know that there are many effective ways of treating them and reducing the appearance.
Broken Capillaries Treatment with Aesthetics at Cima Health
You don't have to live with broken capillaries, and you don't need to keep covering them up with makeup. We offer several solutions to help you achieve the results you desire. When you come in for a consultation, we will develop a treatment plan tailored to your skin and your goals. Some of your options include:
The IPL/Photofacial treatment uses intense pulsed light to target and destroy broken capillaries on your nose, cheeks, and other areas of your face. It's a highly effective treatment for reducing the appearance of broken capillaries and redness. Many clients see a noticeable difference after two treatments, but you may need 3 or more treatments for optimal results.
Laser Genesis is a laser treatment for broken capillaries. The laser heats the capillaries, causing them to constrict and seal off. The capillaries wither from lack of blood supply, and fade away. You may need multiple treatments to achieve the best results.
Another treatment we recommend for clients with a history of broken capillaries is DMK Enzyme Therapy This facial treatment increases blood and oxygen flow in the treated area, and can help prevent future broken capillaries. Make this therapy a regular part of your skincare routine for the best results.
In addition to providing broken capillaries treatment, your aesthetician will educate you on how to help prevent them in the future. This may include making lifestyle and dietary changes as well as protecting yourself from the sun.