Have you heard about the zombie facial? The formal name is DMK Enzyme Therapy. It's not scary at all, but it gets the nickname because 1) it looks a little creepy, and 2) it brings new life to your skin. During this skin rejuvenation treatment, you'll have a customized mask that hardens like a rock, and when the mask is removed, you'll have red streaks all over your face and neck area. That's the creepy part.
But it's all worth it because of the skin rejuvenation part.
How the Zombie Facial Works
During DMK enzyme treatment, your aesthetician will do a deep cleanse of your face, neck and decolletage. Next, they will apply a jelly-like enzyme mask to the same areas. You'll feel a tingling sensation as the enzymes get to work. Several things will happen:
The enzymes will stimulate your facial muscles.

Your blood vessels will dilate, sending oxygen to your skin, promoting collagen and elastin production.

The enzymes unclog your lymph nodes to flush impurities away.
During all of this, the mask hardens, much harder than an ordinary facial mask. At the end of the treatment, the aesthetician will use hot towels to remove the mask, and will moisturize your newly rejuvenated skin. Once the mask is removed, you will see the red streaks we mentioned. That's called the plasmatic effect. It's a road map of the blood vessels that dilated. It may look scary, but it means the treatment worked.
The Results
Some people have noticeable results after one treatment, but your aesthetician may recommend a series of treatments for optimal results. Benefits of DMK enzyme therapy include:
Softer, smoother skin

More even skin tone

Tighter, younger-looking skin

Healthier skin
Your immediate results will depend on the condition of your skin to begin with.
DMK Enzyme Therapy Treats a Wide Range of Skin Issues
No tricks here, only treats. DMK enzyme therapy is safe for all skin types, and works so well to rejuvenate your skin that we recommend it for almost all of our clients. Specifically, we can customize this versatile treatment to help minimize or improve: (make 2 columns)
DMK enzyme therapy treatments can be part of a comprehensive skincare plan for a wide variety of clients. Ask your aesthetician about incorporating it into your skincare regimen.
DMK Enzyme Therapy Before and After Pictures
To get an idea of the difference DMK enzyme therapy can make in the condition of your skin, take a look at some of these Before and After images.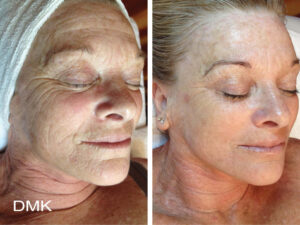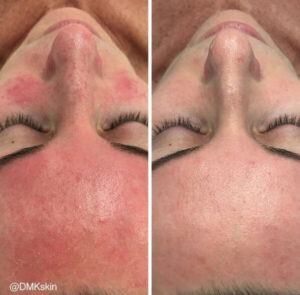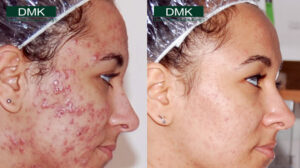 Schedule A Consultation
The DMK Enzyme Therapy treatment can benefit anyone with skin. From pigmentation and acne to addressing wrinkles and sagging skin, DMK tackles it all. Call or text us at (561) 775-9111 to have your treatment scheduled. today.